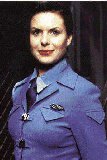 Kristine Kochanski
Kochanski dated Dave Lister (third technician) for about 3 weeks, and Lister has been infatuated with her ever since. His whole plan for a life in Fiji included Kristine Kochanski, so it was a bit of a blow, when she was killed in the accident, with the rest of the Red Dwarf crew.
Lister is eventually reunited with Kochanski, but this Kochanski is from another dimension. The crews from the Red Dwarf in each dimension come accross each other during a rift in space/time. She has to remain with our Red Dwarf, and leave her dimensions crew behind. She sees Lister as a lazy, useless slob, because HER Dave Lister was a caring, sensitive guy.
She is frustated with the boyz, due to their lack of skills, knowledge and general all round slovenly behaviour. She detests Kryten, who in turn, sees her as a rival for Listers friendship.
Kochanski does her best to fit in with the posse, and make her contribution to life aboard Starbug.
There is more to life than lying in bed, eating delivery curries, and having fantastic sex!